Membership Information
Questions or can't find what you are looking for???, just email US.
If you like what you see and read in the free FORUM, then you are only seeing less than HALF of what is available. There are many other boards that are available, ONLY to WAGS members. You need join WAGS if you want to read and see the rest. Foundry lists with pictures, a slide show of our 2003 Annual meeting in Sidney, Ohio, video of our LODGE tour and many other items are present in the "MEMBERS ONLY" section of the FORUM.
The Forum is not the only thing that WAGS members enjoy. We have a quarterly newsletter called the "CASTING CALL". WAGS has an Annual Convention with educational talks, swap meets, cooking demonstrations, tours, Favorite's displays, etc. The Annual meeting is just plain, FUN and you'll see more cast iron and aluminum during that one event than you have seen in your entire lifetime. WAGS has an insurance program to protect your collectibles, a computer database program to store and record your collection, WAGS apparel and much much more.
Want to join WAGS? Just click on the Application image below to get a fillable form. Fill it out and then either email or mail the form as instructed (don't forget your dues payment!) on the FORM. You can make payment for dues by PAYPAL or check, but PAYPAL is much faster.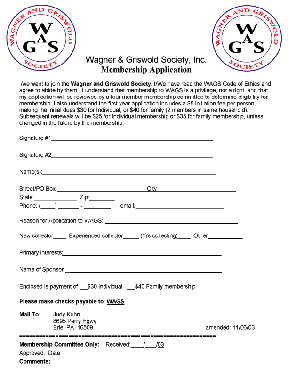 Download the PDF form, fill it out, and send/email the form and your dues to the membership committee. IMPORTANT NOTICE: MAC/APPLE users!!! DO NOT use PREVIEW to look at and fill in the WAGS application!! You must use ADOBE READER or ACROBAT otherwise the form will be blank when the Membership Committee gets it. MAC PREVIEW is not compatible with ADOBE fillable forms and corrupts the file.
Make sure you read the Ethics Statement, which is attached to the Membership Application. If you have any questions, contact a member of the BOARD.
NOTE: You need to have ADOBE READER to download and fill out this file. You can get it FREE at ADOBE